Everyone loves something free, the best free gift to Hip-Hop listeners is a mixtape. Every day different tapes are available from all different Hip-Hop styles for  our listening pleasure. Out of all the mixtapes available throughout 2012 we are giving you the 10 best mixtapes of the year. Check them out after the jump…
Rich Forever – Rick Ross
From the outset of the New Year, Rick Ross was aiming to make 2012 more of his than any other year. Opening the year was the Rich Forever mixtape. The album a variety of beats to match Rozay's lyrics as they switch up from dominance of street anthems to smoother tracks that provide a full spectrum toward the listener. The quality of the features was album quality worthy as the tape boasts apperances by Drake, Nas, John Legend and Pharrell among others.
Dedication 4 – Lil Wayne
Is there an artist that can create as much of a buzz after announcing a mixtape other than Lil Wayne? There may have been no other tape that had as much hype as Dedication 4. Weezy flowed over some of the hottest beats and added his classic flare to each one. D4 not only provided what we know as mixtape Weezy, but we got features from Nicki Minaj and Young Jeezy, the current radio banger No Worries and the national introduction of Chicago's Lil Mouse, which resulted in a well composed effort.
Detroit – Big Sean
Big Sean's Detroit definitely lives up the to the name for its label as it was very good. From the start of the tape with Higher to the middle points of Mula and toward the end with Once Bitten, Twice Shy and stories of good times within the city from Snoop Lion, Common and Young Jeezy, Big Sean is able to provide what is a fitting musical association to his hometown.
Taylor Allerdice – Wiz Khalifa
An early release in the year was a pick for one of the best. Wiz Khalifa's Taylor Allerdice was what we expect from the Pittsburgh native. Wiz is able to provide songs full of weed, but also shows flashes of a new bravado that comes with the success of his music. The additional audio interviews provide an insight into Wiz and his current activities that provide a connection between the songs of the tape.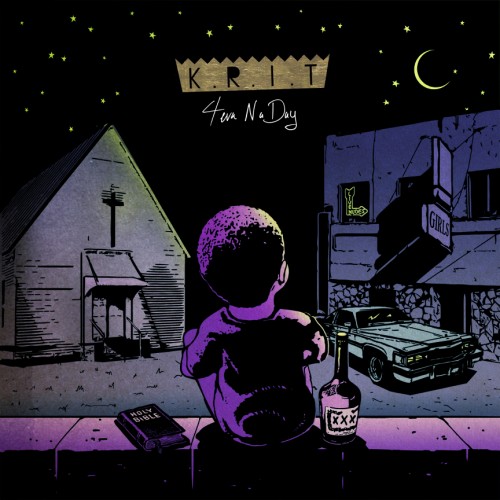 4Eva N A Day – Big K.R.I.T.
4Eva N A Day is solid from start to finish. The smooth approach and feel of Big K.R.I.T.'s production as well as the subject matter of his lyrics provide a cohesive tape that can be played for relaxation in your home or cruising in your car. The southern elements of the cars, K.R.I.T's voice and the beats themselves provide a great piece of southern material that will stay in rotation.
Yellow Album – Dom Kennedy
Yellow Album was easily the soundtrack to the summer. Dom Kennedy provided a mixtape full of smooth tracks that spread that California flare. Dom dropped laid-back lines across the entire tape creating quotes all over Twitter.  The tape also supplied the standout My Type of Party that took over the Internet, radio, parties and every other outlet possible.
Soul Tape 2 – Fabolous
A Thanksgiving treat that wasn't any type of food was Fabolous's Soul Tape 2. The concept mixtape in which each song has a sample carried big name features such as J.Cole, Trey Songz and Pusha T, but also took us through samples of current songs and classics like Guess Whos Bizzack, which will remind you of the Roc-A-Fella days.
Back From The Dead – Chief Keef
The breakout artist of the year is easily Chief Keef. His mixtape Back From The Dead is what elevated him to that status. Keef provided the national spotlight to the new Chicago "Drill" music scene through I Don't Like, which was originally featuring Lil' Reese and eventually adopted by Kanye West and G.O.O.D. Music. Also on the mixtape were other songs such as 3hunna which was another popular song to emerge from Chicago. The power of the release of this mixtape provided Chief Keef a national audience, a Interscope contract and introduced a new producer Young Chop.
Dreamchasers 2 – Meek Mill
Serving as the launch pad for his album Dreams & Nightmares to be released as well as the final wake up call of his arrival, Meek Mill kept the streets satisfied with his sequel mixtape Dreamchasers 2. This tape features the Drake assisted single Amen, which took off on the charts, as well as the tag team lyrical battle Burn featuring Big Sean and The Ride which add depth to the mixtape and making a solid release.
1999 – Joey BadA$$
Brooklyn artist Joey BadA$$ dropped his debut mixtape this summer in which provided an old-school Hip-Hop feel as he blazed lyrics over each beat. The release of 1999 was very sudden but the result of the release made the New York artist and his Pro Era crew people to look out for throughout next year and going forward.
Although there are other mixtapes that will be coming through the latter days of this year they will have to be dominant and impressive to replace one of the ten we have listed above.