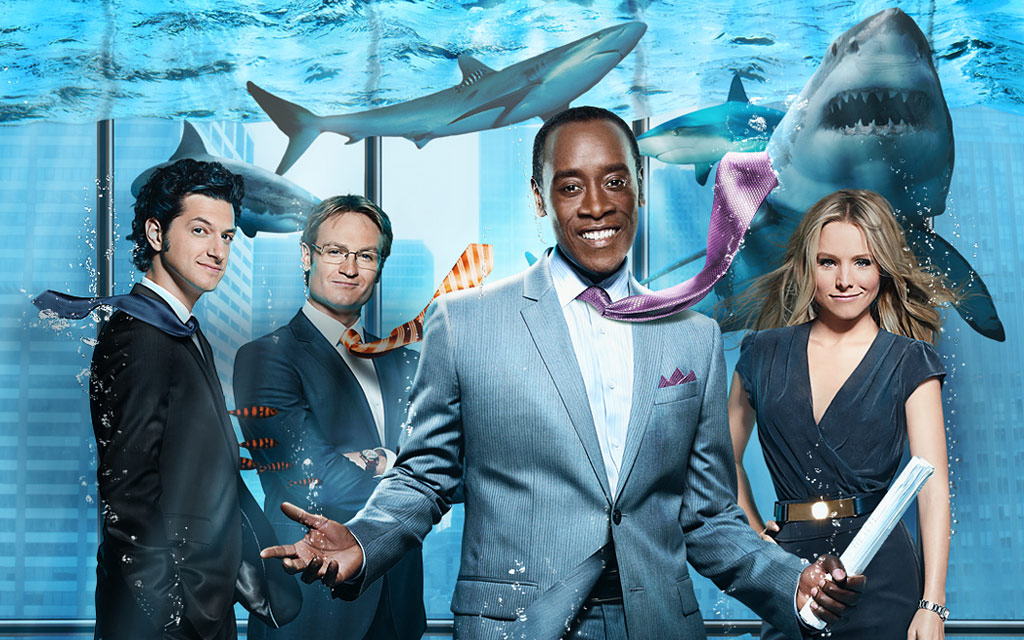 In the world of television, so many shows find it hard to relate to the everyday consumer. Showtimes amazing new series 'House of Lies' has some how found a way to relate to the consumer, but also make everyone's lives seem… better! Hit the jump to read our review of the first season, before the 2nd season takes flight.
A hilarious and dry-humored series, House of Lies is an office based comedy showcasing the multiple whoas of co-workers and daily work. Featuring big names such as Don Cheadle and Kristen Bell, we're greeted by a team of hungry go-getters, all for the sake of making big bucks and having their big-name clients in the palm of their hand. Living by the motto "Screw or be screwed," head of the team Marty Kaan embodies the drive and push that we wish every single co-worker had. A hot, young, and just as motivated team sits beneath him.
Marty lives a rather.. hectic life to say the least. His ex-wife is also a business competitor of his and rarely lives a life of being at home. His father lives with him and takes care of his son, who is gunning for a role in 'Grease' as character 'Sandy' which would involve, you guessed it, cross-dressing. A curve ball that we didn't expect ourselves, it was well-played and added more underlying humor to the show.
In a business setting where bullshit sells and allows you to cash out on some of the finer things in life, this is a show that we highly recommend everyone pick up on. House of Lies is the perfect example of office life in the modern day setting, but helps us realize that we have it quite… easy! Stay tuned as we have a few more reviews lined up of this incredibly witty show.