Over the weekend (Saturday, February 16th) across the pond in London town, London Fashion Week is well underway. Among lines unveiling such as the new Spring/Summer Burberry collection, Versace, Louis Vuitton & more, a certain celebrity tries her hand in the fashion world and goes by the name of Rihanna. The Bajan pop princess, fresh off the Grammy stage with two riveting performances, has officially collaborated with international fashion brand River Island, to bring forth the exclusive fashion line "Rihanna For River Island". Read more and check out the exclusive pics courtesy of (Rap Up) after the jump!
The "Pour It Up" singer steps on the runway herself, wearing an all black dress from the line in collaboration with River Island, stepping down the runway to cuts from A$AP rocky and of course her track "Phresh off the Runway". Rihanna paired up with some of the hottest models in fashion such as Cara Delevigne and this presentation was a complete spectacle.
Some sources have noted the line to be a "Horror Show" says the Huffington Post, while other urban fashion goers are glad that Rih Rih is trying her hand in a different realm. With the success of her music career, a perfume line and being an ambassador for brands such as Vita Coco and the actual island of Barbados, is it safe to say we can add fashion as another notch under the singers belt? Check out some dope pics of the line (which most likely costs a grip) reveled at London Fashion Week below!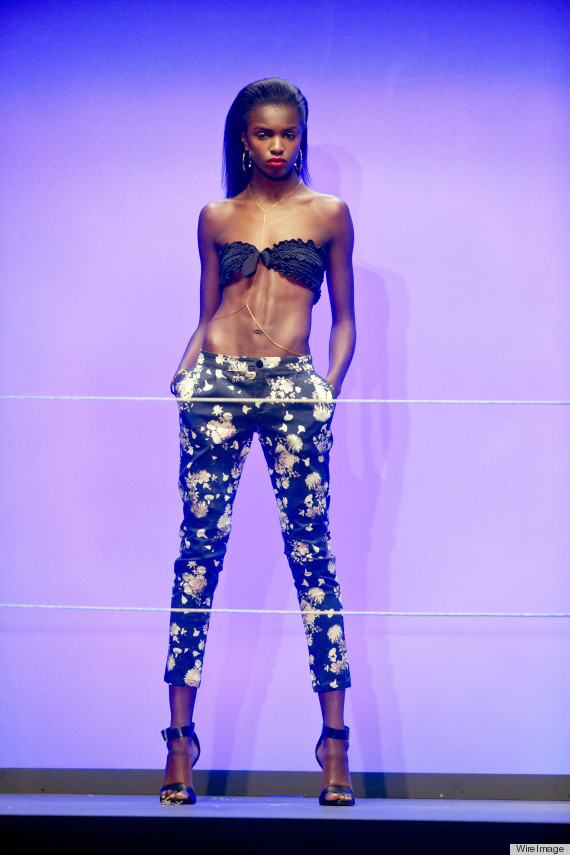 Many critics are saying that Rihanna's River Island collection was not created by her nor designed by her, which we have researched to find incorrect. Critics ae also stating that the Rihanna for River Island collection was not an "official" part of London Fashion Week. Either way, we have a video of Rihanna in the River Island design studio, chatting it up on why she designed each piece the way she did! Check it out below!